Khan Sir Patna Biography: Faizal Khan, also known as Khan Sir Patna is a teacher, an entrepreneur, and a social activist. He is the founder of the famous "Khan GS Research Centre" in Patna, which is one of the best coaching institutes and an inspiration for so many people appearing for  Government jobs and the UPSC exams. 
Khan Sir Patna's Early Life and Family Background
Khan Sir Patna was born on 11th December 1992 in a middle-class Muslim family in Gorakhpur, Uttar Pradesh, India. His father, Basheer Khan, was in the Indian Army and has retired now. 
He has one sibling, a brother who is a Commando in the Indian Army.
In childhood, Khan also wanted to be an army man but he was not found medically eligible for the same as there was some problem with his right-hand joint, and hence, he decided to prepare for UPSC and other Government based exams.
Khan Sir Patna's Personal Life
Reportedly, Khan sir was engaged in 2021 but no more information is available about his fiance.
Khan sir is a very kind-hearted person, he makes donations to orphans, NGOs, and other spiritual centers.
Khan Sir Patna's Educational Qualification
As per Khan Sir, he had always been a studious kid since childhood and hence decided to appear for NDA and other tough exams while he was still young.
He finished his schooling in Gorakhpur after which, he started preparing for the AIEEE exam, but unfortunately, he couldn't appear for it as he studied the whole night before the exam and hence couldn't get up in the morning to appear for the same.
Soon after this, Khan got admitted to Allahabad University to complete his graduation in BSc and post-graduation in MSc.
During those days, he also took part in various Students group.  Being a student activist, he was jailed three times during his college days.
Although he was a student of science student, he was always eager to have general knowledge and idea about other subjects which made him an all-rounder.
Khan Sir Patna's Physical Traits
Khan Sir Patna is 5'6″ tall and weighs around 64 kg. He has black colored eyes and black colored hair.
Khan Sir Patna's Likes And Dislikes
Khan Sir Patna loves to read books, do research on relevant topics, and has a good sense of humor.
Khan Sir Patna's Career Details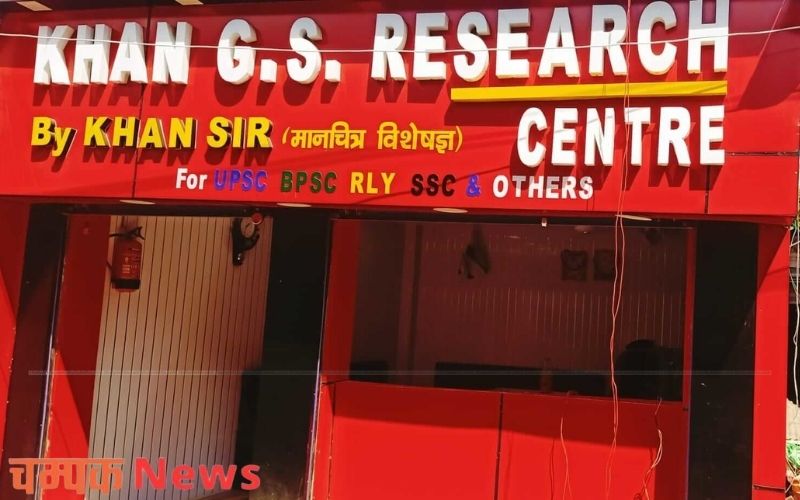 During one of his visits to Bihar, Khan sir noticed the illiteracy rate getting extremely high there.
He got to know many people who wish to study further but couldn't afford to pay the higher coaching fees and hence dropped out.
With the motive of providing an affordable fee for coaching to such aspirants, Khan sir decided to open a coaching institute in Patna, the capital of Bihar.
He started his coaching classes just with a single room in Patna and made teaching and learning a funny and entertaining activity for the students. With his apt teaching style and funny Bhojpuri jokes, he gradually attracted many students to enroll in his coaching.
With the increase in the number of students, Khan Sir shifted his coaching, named it "Khan GS Research Center" and also started providing online classes through his YouTube channel. Today, his style of teaching is preferred by many Government job and UPSC aspirants in Patna.
Now, he runs his own mobile application through which he provides live training to his students. Along with this, he also runs his Facebook page, Instagram, YouTube channel, Offline Coaching Centre, and Webinar Sessions. 
According to him, Teachers should maintain a friendly bond with their students so they don't hesitate to clear their doubts with their teachers.
As per Khan Sir, he does not charge any fees from poor students and provides them coaching absolutely free.
Khan Sir Patna's Social Media Accounts 
Khan Sir Patna is active on many social media platforms, such as,
My name is khan. I am not a terrorist….
Proud be Indian,.
.#isupportkhansir #khansirpatna #khansir #khansirsupport pic.twitter.com/REKMumKBXE

— Khan Sir Patna (@KhanSirOffical) May 29, 2021
View this post on Instagram
Frequently Asked Questions
Q1. Who is Khan Sir Patna?
Ans.  Khan Sir Patna is a teacher, an entrepreneur, and a social activist.
Q2. What is Khan Sir Patna's real name?
Ans. Khan Sir Patna's real name is Faizal Khan
Q3. What is Khan Sir Patna's qualification?
Ans. Khan Sir Patna did MSc from Allahabad University.
Q4.  What is Khan Sir Patna's income?
Ans. Khan Sir Patna's monthly income is around Rs 8-9 lacs from YouTube channel and  Teaching fees.