Kazi Nazrul Islam Biography:- Kazi Nazrul Islam was a Bengali poet, writer, and musician, and is the national poet of Bangladesh. He is regarded as one of the greatest poets in Bengali literature and was popularly known as Nazrul or "Bidrohi Kobi" or rebel poet.
Kazi Nazrul Islam's Birth Anniversary Celebration In Bangladesh
The 123rd birth anniversary of Kazi Nazrul Islam, the national poet of Bangladesh was celebrated in Bangladesh on Wednesday 25th May 2022. On this occasion, several cultural and social organizations organized programmes to pay tribute to the poet.
In India, the Indira Gandhi Cultural Centre (IGCC), and the High Commission of India also organized a Nazrul songs evening event on this occasion where the poet's granddaughter, Khilkhil Kazi was the special guest. The songs were performed by the renowned Nazrul Geethi artist Khairul Islam Shakil.
Kazi Nazrul University In Bangladesh Stopped Award On The Poet's Name
Kazi Nazrul University (KNU) in West Bengal, India has decided to hold Nazrul Mela in its 10th year of operation but has reduced the duration of the meal from seven days long to just three days. Also, the university has discontinued the award in the name of the poet from this year.
Kazi Nazrul Islam Wiki

&

Biography 
Kazi Nazrul Islam was born on 24th May 1899 in Churulia, Asansol, Bengal Presidency, British India. This place is now called Paschim Bardhaman district in West Bengal, India.
Kazi Nazrul Islam was a renowned poet, short-story writer, song composer, playwright, singer, flautist, novelist, essayist, literary translator, soldier, film actor, and even a political activist.
He played a revolutionary role with his writings during the British Rule in India and influenced hundreds and thousands of Indians to agitate against the Britishers. He was also known for her writings depicting freedom, equality, and rights for women in Indian society.
Some of his notable works as a writer are, Notuner Gaan, Bidrohi, Pralayollas, Dhumketu, Agnibeena, Bhandhan Hara, Nazrul Geeti, Song of Eid-ul-Fitr.
He received awards such as Padma Bhushan in 1960, Ekushey Padak in 1976, and Independence Day Award in 1977.
Kazi Nazrul Islam Age
Kazi Nazrul Islam was born on 24th May 1899 in Churulia, Asansol, Bengal Presidency, British India (present-day, Paschim Bardhaman district, West Bengal, India).
Kazi Nazrul Islam Cause Of Death
In 1939, Pramila was paralyzed from the waist down. The poet himself fell ill in 1941 and gradually began losing his power of speech. His financial conditions worsened and he started feeling increasingly depressed. None of the medical treatments worked for him
He was at last admitted to a mental asylum in 1942 but his condition did not improve there as well. In 1952, he was admitted to a psychiatric hospital in Ranchi. With the help of a large group of admirers, the couple was sent to London and then to Vienna for treatment.
The doctor there said that he was suffering from Pick's disease which is incurable. The couple returned to Calcutta in December 1953. Nazrul remained in intensive medical care and stopped working. His wife, Pramila died on 30th June 1962.
He died in Dhaka, Bangladesh on 29th August 1976 at the age of 77. He was buried at the Central Mosque at the University of Dhaka.
Kazi Nazrul Islam Nationality
Kazi Nazrul Islam was born in British India, so he was a British Indian from 1899 till 14 August 1947 before the independence of India. 
After the independence, he was an Indian from 15th August 1947 till 18th February 1976 until he left India.
On 24th May 1972, the newly independent nation of Bangladesh brought Nazrul to live in Dhaka with the consent of the Government of India, he became a Bangladeshi citizen in January 1976 and remained there till his death on 18 February 1976.
Kazi Nazrul Islam Parents & Siblings
Kazi Nazrul Islam was born into a Bengali Muslim Kazi family. His father Kazi Faqeer Ahmed was the imam and caretaker of a local mosque and his mother Zahida Khatun was a housewife.
He had three siblings, two brothers named Kazi Saahibjaan and Kazi Ali Hussain, and one sister named Umme Kulsum.
Kazi Nazrul Islam Wife & Children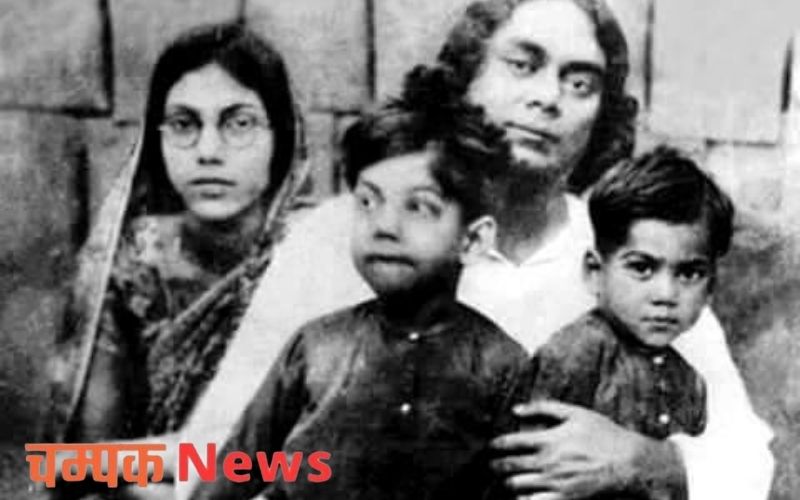 Kazi Nazrul Islam was engaged to Nargis, the niece of a well-known Muslim publisher Ali Akbar Khan in 1921. However, on the day of his wedding, Nazrul was asked to reside in Daulatpur after his marriage to which he walked away from the ceremony.
In the same year 1921, Nazrul met a young Bengali Hindu woman named Pramila Devi during his visit to Comilla. He fell in love with her and both got married on 25th April 1924.
However, Pramila was harshly criticized by the Brahmo Samaj for marrying a Muslim, and Nazrul was criticized by Muslim religious leaders for marrying a Hindu woman.
Despite all this, Nazrul's popularity as the "rebel poet" increased and he settled with his wife and young son in Krishnanagar in 1926.
The couple had four children, named Krishna Mohammad, Arindam Khaled (Bulbul), Kazi Sabyasachi, and Kazi Aniruddha. However, the two of them, Krishna Mohammad and Arindam Khaled (Bulbul), died young.
Kazi Nazrul Islam Poems And Notable Works
Nazrul was attracted to the folk theatre since childhood and joined done run by his uncle where he learned to act and write songs and poems for the plays and musicals. He started composing folk plays for the group. Later on, due to lack of money, he took up jobs as a cook at a bakery and also worked at a tea stall.
Nazrul wrote his first prose and poetry when he was posted to the Karachi Cantonment in 1917. During his time in the army, he read the work of various Indian and Persian poets. He learned Persian poetry, practiced music, and pursued his literary interests.
In 1920, after his regiment was disbanded, Nazrul settled in Calcutta and joined the Bengali Muslim Literary Society. His first novel called Bandhan-hara was published in 1920.
The poet became famous with his work Bidrohi published in 1922 which is regarded as his most famous work. It coincided well with the Non-Cooperation Movement against the British rule at that time in India.
With his works going against the British empire in India at that time, the poet was arrested in January 1923 and charged with sedition. Many of his writings were banned by the British Indian Government. He was released from prison after a long protest and fasting in December 1923. 
His mentor, Rabindranath Tagore dedicated his play "Basanta" to Nazrul in 1923. His next book, Bisher Banshi was published in August 1924 and was read and distributed in secret following the ban.
The poet joined the Bengal state unit of the Indian National Congress to encourage people to agitate against British rule.
Some of his notable works as a writer are, Notuner Gaan, Bidrohi, Pralayollas, Dhumketu, Agnibeena, Bhandhan Hara, Nazrul Geeti, Song of Eid-ul-Fitr.
Nazrul also recorded Islamic songs which attracted many gramophone companies. His songs are quite popular in Bangladesh during Ramadan. He even wrote devotional songs on the Hindu Goddess Kali.
In 1928, he began working as a lyricist, composer, and music director for a gramophone company. His songs and music were broadcast on radio stations across India.
In 1930, he was again sent to jail and released in 1931 after the Gandhi-Irwin Pact was signed.
Nazrul then began his journey as a film director with the Bengali film "Dhruva Bhakta". He served as the music director for a few films and worked on several plays. He even produced some documentaries. In 1940, he worked as the chief editor for the daily newspaper Nabajug.
Kazi Nazrul Islam Legacy
Kazi Nazrul Islam was titled the "National Poet" in 1972 by the government of Bangladesh. His poetry was translated into several different languages.
In India, there is a university called Kazi Nazrul University in West Bengal named after him.
Jatiya Kabi Kazi Nazrul Islam University in Mymensingh, Bangladesh is a public university named after him. There is also a college in Dhaka, Bangladesh called Kabi Nazrul Government College named after him.
There is an airport named Kazi Nazrul Islam Airport in Andal, West Bengal in India.
Kazi Nazrul Islam Educational Qualification
Kazi Nazrul Islam went to a Maktab run by a mosque and a madrasa run by a dargah where he studied the Quran, Hadith, Islamic Philosophy, and theology.
When Nazrul's father died in 1908, Nazrul was only 10 years old. He took his father's place and started working as the caretaker at the mosque.
When he grew up, Nazrul began studying Bengali and Sanskrit literature due to his inclination toward folk music and theatre. He also studied Hindu scriptures, such as the Puranas.
In 1910, he enrolled at Searsole Raj High School in Raniganja and later got transferred to Mathrun High English School. When he was unable to pay for his school fees, he left the school.
In 1914, he got admitted to the Darirampur School in Mymensingh where he studied Bengali, Sanskrit, Arabic, Persian literature, and Hindustani classical music.
Although Nazrul studied up to grade 10, he did not appear for the exam and joined the British Indian Army instead in 1917 at the age of 18.
Nazrul served in the British Indian Army from 1917 to 1920 as a Havildar (Sergeant) in the 49th Bengal Regiment during the First World War.
Frequently Asked Questions About Kazi Nazrul Islam:
Q.1 Who was

Kazi Nazrul Islam

?
Ans: Kazi Nazrul Islam was a Bengali poet, writer, and musician, and is the national poet of Bangladesh.
Q.2 How old was Kazi Nazrul Islam when he died?
Ans: Kazi Nazrul Islam was 77 years old when he died.
Q.3 Who was

Kazi Nazrul Islam married to?
Ans: Kazi Nazrul Islam was married to a Hindu woman named Pramila Devi.
Q.4 Was Kazi Nazrul Islam Muslim?
Ans: Yes, Kazi Nazrul Islam was Muslim.